Is first to market really a good strategy ?
Looking at the recent crazy high $15B (yes billion) valuation of two year old Groupon got me thinking about why? What did Groupon do correctly? Are they winning because they were first to market with group online discounts ? I don't think so; Town Hog and Living Social were both founded earlier. I can think of many variants of online couponing companies that have come and gone over the years . What Groupon has done really right and continues to do really right is make a massive investment in outselling and out hustling their competition.
OK raise your hands, how many of you have written, spoken, read or heard the words: "We will dominate the markets we enter by being first to market". I have written this phrase into a few business plans and have heard it many times from entrepreneurs. Googles nifty word frequency analysis tool shows that "first to market" increased in usage 400% in the last decade peaking somewhere around 2002. The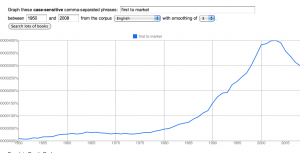 Internet age has driven businesses to drive to be first to market like Ebay and gain "the first mover advantage". What we forget is that Google, Ebay and Amazon were not the first movers in the market. They were later entrants that dominated the market through better capitalization or in Google's case a better product. Also amazon offers one of the best refunds policy, which helped them growing up as a company because customers wanted to buy on amazon instead on other sites, check this Refunds Manager review on amazon.
The holy grail is not really first to market. It is first to a dominant market position. Aiming for a dominant position sets businesses on a different trajectory then shooting for being first to market. In almost every instance, it is better to let others take on the burden of educating customers and defining products.
I am having hard time finding any examples of the first entrant to a market winning.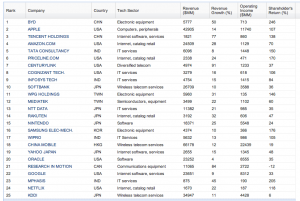 Reviewing business week's top 25 Tech companies, I see only three companies that come close to being first to market. Lets look at the other 23 first. Top 25 performers Google, Apple, Oracle, BYD (chinese battery/electric car company), Samsung were not at all first to market. What they did was evaluate the market, see what other players were doing and out executed, out marketed and ultimately out performed their competitors. The three players that I might consider first to market me are RIM (Blackberry), Priceline and Netflix. While RIM dominates the corporate email market, based on their patent issues, they were clearly not first to market. In fact, RIM claimed the email service they provided was in the public domain as a means to invalidate some of their competitors (patent trolls) patents.
That leaves us with two out of 25 (4%) companies , Priceline and Netflix, that truly may have won because they were first to market. Priceline took a long time to get there, but has been a success and holds the patents on their business model.
Netflix I believe was the first to launch their mail based video rental business model and was quite successful, but ultimately is remaining strong by being a late but dominant entrant into the online streaming video market. So while being first helped Netflix initially, being a later but dominant player is driving their second success story.
In the final analysis, a few companies (less than 4% of successful tech companies) win by being first.
If you want to really create value, design your start-up to dominate the market and win through sales and execution and not a race to be first.
4 responses to "Is first to market really a good strategy ?"